Please Read:
Okay, so first off I want to say that this post is tough. It's tough to think about and write. However, it is extremely important and a huge topic in the CF Community, and is VERY NEAR AND DEAR to MY HEART! First I want to ask you... What if I told you I needed a Transplant. That I needed to reach a certain weight, get my kindeys functioning better, get a higher pain tolerance, and get off a couple medications I take right now. What if I said I couldn't receive a 2nd chance at life unless I reached these goals and I raised a certain amount of money that seems impossible to raise. What if I had been in and out of the hospital off and on for the last year, with many surgeries, had multiple infections and my lung function dropped from 40s to the teens and now is slowly dropping still. What if I was starting to wonder if my decision to go through the grueling Transplant tests was worth it. What if I start to get down about my cf and wondering why even fight anymore?
So what are you thinking? Are you freaking out? Are you worried? What would you do? Would you send me a card of encouraging words, write me comments, help me fundraise? Tell me what I needed to hear?
You are probably thinking "Oh that couldn't happen, Cheriz you are so positive and bubbly." Well guess what it could happen. I am overall I'm positive person and try to make the best of my situation. But CF can be tough. And to be honest, you do doubt sometimes. I get upset a lot. I have a hard time working more than 25 hours a week, I get run down after a day of shopping. Vacations are not relaxing, I lose weight and get worn down. I miss weeks of work and school due to be sick every couple months. Grocery Shopping can make me have an asthma attack and I struggle with simple tasks like carrying laundry. And when you have obstacles constantly with the knowledge you will never get a day off from the constant need to do therapies and take pills, all while watching other CFers struggle too, it can get you feeling down. We watch as our friends with CF constantly fight to live or sadly lose the battle. So even though I love my life, so do all CFers, it just is a tough life. It is worth fighting every moment for, even though sometimes we forget that in the moment of some upsetting times.
Why am I discussing this sad topic, because I can't turn my head away and pretend it doesn't exist. That situation about my needing lungs, reaching those goals, and fundraising isn't about me. It could be in the future. But right now... It's about Laura. As you may have guessed if you read the past blog I wrote in November. (read about Laura's Whole Fight and About Our Friendship
HERE!)
Cystic Fibrosis is tough and it robs people of their lives! Laura and I, as you know, grew up going to the same CF clinic together and have been friends since we were little. We got to be friends with lots of the other CF patients(kids). Back then, we didn't know it was bad to be around each other. Now, we know we can spread potentially very harmful bugs and infections to each other. Therefore, we no longer areable to be around each other to support each other through the tough times. Which can make it more depressing.
And to be honest I was afraid to make other CF friends in the past years, because Laura and I outlived all of our CF -kid friends. Casey (my best friend I lost at age 10), Andrea (another best friend I lost at 12), Michelle, Shauna, Monia, Meghan, Abbey, Kevin (my monkeyboy at age 18), and then Danny in 2009 (my first crush and kiss at age 8ish) These weren't kids I just saw at clinics once in a while. We were close. We spent weeks, months, every year together in the hospital. We would do meds together, go to CF summer camps together, have slumber parties and spend time at each other homes in the summer. And on top of being friends we had this amazing connection of knowing you aren't the only kid who has to take these, pills, get all those shots, xrays ,and procedures done. We just got each other and understood it. It wasn't weird and we didn't feel bad for each other. So you can imagine how much Laura means to me and I mean to her. Over the years Laura and I remained close and we still continue to support each other via phone and online to this day! We need to, we understand each other, we have similar problems and CF issues.
How scared were you when you thought the situation was about me. Now, just think how I feel and how she feels. I can't imagine what she is going through. This is what I do know. I love her. She is the only person I can talk to about my CF that I feel truly understands. I can tell her anything and she gets it. She never judges me and loves me. I've watched so many friends leave this world. I can't imagine a world without Laura. She is amazing, beautiful, is the hardest working and has had more CF obstacles than ANY CFer I have known and yet she keeps fighting. She loves so much, she loves the little things: purple, flowers, animals, Celine Dion music, pooh bear, nursing, laughing, have a good time, etc. She is the type to cheer up the room with her wonderful personalty/laughter. I know you don't know her. But you know me. You would send me cards, send me words of encouragement, help me fundraise and even donate to my transplant. So please think of her as me, for she is as important to me as I am to you.
She needs to see how amazing she is and how life is always worth fighting for. We are tough, we have gotten through everything else. She can achieve these goals with our help. Let's gelp her along and encourage her through this! And I have to believe there is something I can do. I can do this .Share her story, ask you to help encourage her to fight, help me spread word, and help me raise money for her transplant.
Please consider leaving comments below or on my facebook for her, or sending her a card (message me for her address), and before you decide whether to donate to her transplant financially, please read this link about the costs she will endure with her double lung transplant (
http://www.transplantliving.org/before-the-transplant/financing-a-transplant/the-costs/
)
And please think about Donating Here: Just think..if we all donate a dollar or two, we could really help her out!!!!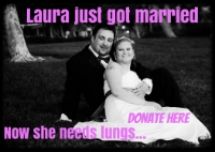 Laura you are strong, you can do this. Don't give in to sadness and the fear. We are tough. Both of us, me and you! And you are not alone. All your family,friends, especially your new husband Joe, and all the CF community are behind you!!!! I know it is scary and completely hard to understand. I know it will be tough, but you are tough. And keep your eye on the post-transplant life :-) A future with Joe, where you can breathe, laugh without coughing, and be so much healthier! Just picture the beauty of it. There is a rainbow at the end of this storm!
I love you.